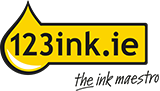 Over 350,000 clients!
Nationwide delivery from €3.99 (max €4.99)
ADF
ADF 
ADF stands for Automatic Document Feeder. This technology makes it possible to process multiple pages in succession while scanning, without having to manually feed the documents one by one.

What is the advantage of ADF?
With ADF, you can scan, copy or fax multiple pages in a row (if the printer has these features). You load the stack of paper into the printer and choose the ADF option. The printer will then process the documents itself in the correct order, saving you a lot of time and effort.

How many pages can the printer process automatically?
Printers with ADF can handle a limited number of sheets automatically. This number is provided in the specifications of the printer. The amount of paper can vary from 35 sheets to 50 sheets or more. The ADF function of a printer can work one-sided or two-sided.