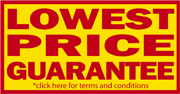 31 Mar 2020
Which type of client are you??
If you're working in a medical centre, hospital, nursing home, surgery or other front-line business then we'll priortise your order so it's in the very next batch of orders picked. We can do it ourselves in most cases, but to be extra sure just drop us a line and we'll take care of it!
28 Mar 2020
Pallets of stock arriving every day
We are one of the few companies in Ireland with our own stock in-house, so we're best suited for actually being able to fill your order. We've pallets arriving from every corner of Europe each day, so order away and we will get it to you (albeit possibly with some delays)!
27 Mar 2020
OPEN for business as usual!
Following government guidelines we'll be at work on Monday. We're strictly "physical-distancing", meaning we're a bit slower than usual so please bear with us! We're implementing shift-work to allow us keep more distance while at work and at the same time service more clients. 
13 Mar 2020
Working from home?
Don't forget to stock up on essential home office supplies. We have a wide range available on our site for all your last minute needs here .
25 Feb 2020
Happy Pancake Tuesday!
Meanwhile at 123ink, we have great prices on our batteries right now.
Check them out here!