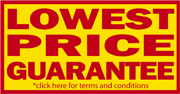 1 Mar 2019
March Deals Updated
We have updated our deals for March, all stock is valid while stock lasts.
123ink.ie March Deals
17 Jan 2019
New Canon 123ink Version Toners Available
We now have the Canon 040H toner range available in our 123ink version and in stock.
040H BK, 040H C, 040H M and 040H Y.
17 Jan 2019
New Brother Toners In Stock
We have just got stock of the TN-242 series in our own 123ink brand of toners. Please see link below.
Brother TN-242 series
18 Dec 2018
Christmas Opening Hours
Our offices are closed from midday on 21/12/2018 until 8am on 02/01/2019. Our couriers will make their last collection from us on 20/12/2018 and will make their last delivery on 21/12/2018 so make sure to get your orders in on time to receive them before Christmas. We'd like to wish all our clients a Merry Christmas and a Happy New Year.
3 Dec 2018
November Testimonials Added
Thank you for another great month! Below are some of the lovely comments we have received back from our clients.
Testimonials