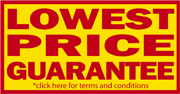 15 Apr 2019
Easter Opening/Delivery Times
Our webshop is open all over the Easter, 24/7 as usual! Orders placed before 4pm on Thursday 18/4/19 will be out for delivery Tuesday 23/4/19. Our offices are closed Friday 19/4/19 and Monday 22/4/19. Happy Easter!
2 Apr 2019
Choice Of Courier Now Available For Deliveries
Following recommendations from our clients you can now choose between Fastway and An Post as your courier for your delivery at 123ink.ie.
Delivery Information
1 Mar 2019
March Deals Updated
We have updated our deals for March, all stock is valid while stock lasts.
123ink.ie March Deals
17 Jan 2019
New Canon 123ink Version Toners Available
We now have the Canon 040H toner range available in our 123ink version and in stock.
040H BK, 040H C, 040H M and 040H Y.