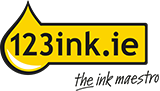 Over 250,000 clients!
Nationwide delivery from €2.95 (max €3.95)
Ten good reasons to buy from 123ink.ie
Payment methods
We use Adyen to process all card transactions.
Home users can pay by Visa, Mastercard, PayPal, bank transfer or cheque.
Business clients can use all of the above methods and a 30-day invoice (subject to credit check).
Delivery
95% of orders are dispatched directly from our Dublin warehouse "same day".
Choose from either An Post or Fastway Couriers at checkout
Rates are €3.95 including VAT (subtotal below €50), dropping to €2.95 (subtotal above €50).